Free 30 minute Initial Consultation
Learn more about how you can get personalized support in the form of consultancy and mentorship with a free 30 min video or phone call.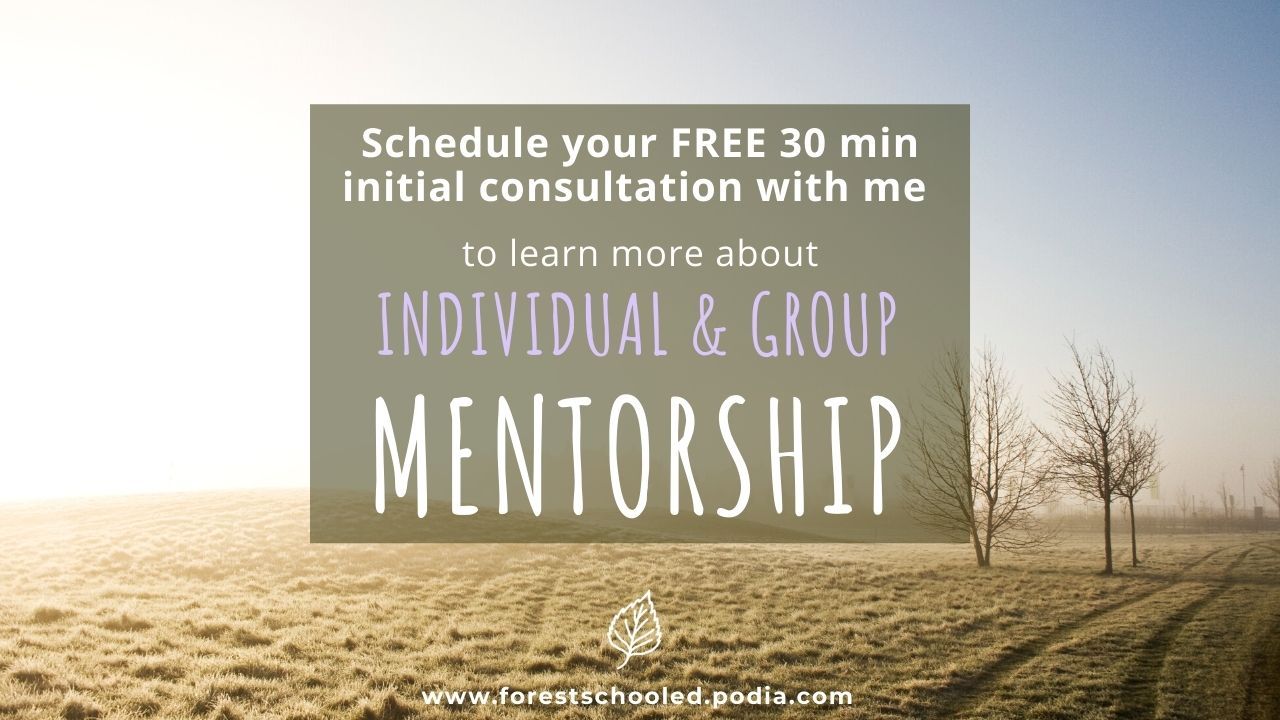 About Me
Hi! I'm Caylin, the creator of Forest Schooled and a practitioner, consultant, and mentor in environmental education, nature- and play-based pedagogies, and Forest School. I have a MSc in Environmental Education, over 12 years of experience developing and delivering outdoor programs, and am the author of Forest Schooled, The Book.
I'm really lucky to be contacted by people all over the world who want to learn more about creating, refining, and adapting outdoor and Nature-rooted programs, like Forest School. Everyone is different, so I've designed a variety of ways to help those who are just getting started, as well as experienced practitioners who want to deepen their practice.
​
This includes personalized support in the form of consultancy and mentorship. I usually start with a free 30 min video or phone call to get to know you and your needs.
Caylin is a great listener and mentor. She takes time to ask you what you need or what's happening throughout the process. Caylin is great at making connections between what's happening in my learning process and what she's learned along the way. There were times when I was feeling doubtful and discouraged, and Caylin helped me get unstuck and moving forward. I felt like I gained a friend throughout the mentorship.
Bryan Morales, Massachusetts USA
Fox Kit Cooperative
Caylin's mentoring and consultation was invaluable to us in the process of designing and opening our outdoor program for young children. Her depth of knowledge and experience is reflected in her thorough library of authored and gathered resources, which include a multitude of articles, posts, and documents covering both practical and philosophical considerations. This breadth of work is matched by her evident passion for nature programs and sincere desire to help others carry out this truly meaningful work. Caylin became not only an educator for us, but a champion of our efforts and a willing ear to listen to our story. Her calm, supportive demeanor invited our true expression of questions, concerns, and thoughts; everything we discussed felt valued and she always had relevant advice or information to share during each consultation.
Caylin always responds in a timely manner, and is incredibly easy to communicate with. We feel grateful for our connection to Caylin, and her openness in remaining a resource to us as we continue our journey.
Amanda & Joe, California USA
Caylin's mentorship was extremely thorough. I was provided with an abundance of resources (more than I expected!!) that I could go through - and can refer back to - as I grow my programs.
She was available & flexible when I needed the talk things through, ask questions, and need her support while dealing with situations that arose. She was extremely flexible and willing to follow my pace. As a parent, an employee, and an entrepreneur this was important for me to know I could take it at my own pace & not over-extend myself.
Caylin is such a beautiful human - kind and empathetic - and has a wealth of knowledge!! I'm a forever fan!
Wondering how consultancy or mentorship with me works?
I approach my work with adults much like I approach my work with children: it's learner-led! What are your needs and interests? What could you use help with? Let's connect and we'll work together to figure out how I can best support you. This could be through individual or group Zoom calls, or talks, webinars, or workshops for your organization or community.


If you need a "springboard" (or a starting place), here are some topics you could choose from:
Program Development
Program proposals and advocacy – getting people on board & building alliances. Creating partnerships with schools or organizations
Risky Play
Frameworks for supporting risky play, place-based, play-based, and emergent planning
Behaviour
Working with distressed behaviour outdoors
Access & Inclusion
Working towards accessible and inclusive programs. Facing colonization in our work with the Land & building our understanding of Indigenous perspectives
Ecology & Our Impact
Ecological relationships and impact assessments
Evidence-based
Documentation, evaluation design, and reporting to communicate impacts and value. Parent/Caregiver communication.
Your Business
Business planning and design that aligns with a Nature-rooted approach
Created with