About Nature-rooted Learning
It all comes down to place – where in the world you are, the culture you live in, and the stories of the land you live on
After living and working with a variety of Nature-rooted approaches in 3 different countries now (England, USA, and Canada) I've come to the conclusion that it all comes down to place – where in the world you are, the culture you live in, the stories of the land you live on. All of that, and more, determines "what is Nature-rooted Learning?
(You can learn more about how I came to coin the term "Nature-rooted Learning" here.)
I view this work as an ongoing and evolving conversation with many individuals from many different places as a way of forming a mutual understanding of our work. With that comes an acknowledgement that there are some areas that overlap and some that just don't!


So what I offer you, below, is my own take on what Nature-rooted Learning means to me, and the commonalities I have experienced within the variety of places I've lived. To do this, I've made a drawing that symbolizes a spiral rather than a list because it requires non-linear thinking! I also wanted to demonstrate that there's no ending point either. Definitions and understandings will change and adapt over time. After all, the only constant in life is change (or something like that right?).


I'm also sharing a webinar recording a colleague and I delivered for the Cornell University Civic Ecology Lab in April 2019, where we share what it means to us to learn through a Forest School approach, which is one form of Nature-rooted Learning (and, indeed, the place with which I started this journey and why I'm called "Forest Schooled!")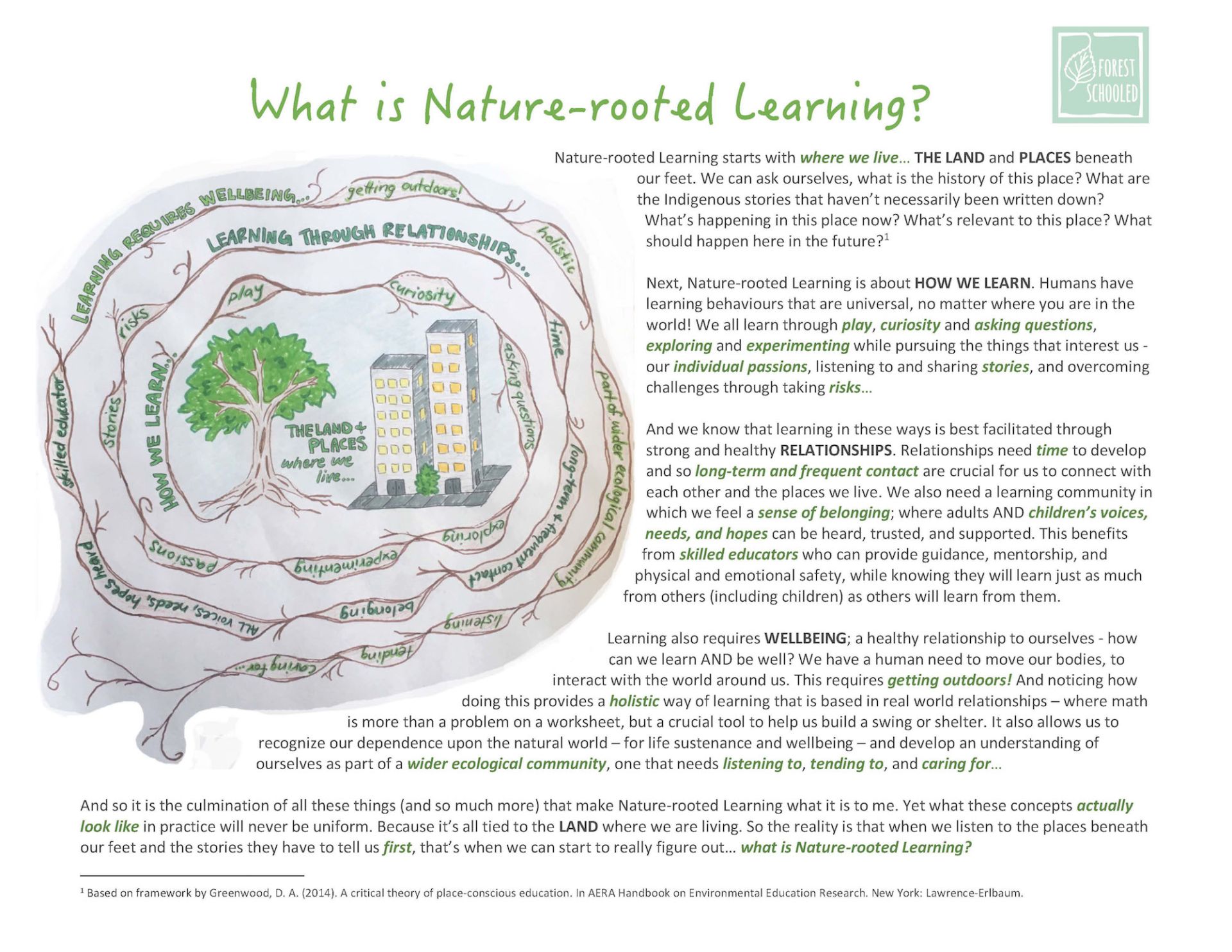 Check out this recording of a webinar we delivered for the Nature Education Course through Cornell University Civic Ecology Lab in April 2019 about Learning through a Forest School Approach
Here's a link to a
PDF version
of the presentation to access hyperlinks embedded within the powerpoint slideshow
Get Nature-rooted
Many people feel isolated and discouraged when it comes to creating and providing Nature-rooted programs. That's why I offer comprehensive mentorship packages for people who want to start up, re-design, or expand a forest school or other Nature-rooted outdoor programs or businesses anywhere in the world.
Created with