Blog
Stories from my personal journey learning about and delivering Nature-rooted programs across three different countries

Empty space, drag to resize
Learning about and reflecting on all that I don't know
We often say, "Start with what you know"... but what if we said instead,
"Start with what you don't know"...?

The sentence above is how I opened the first blog of a series called "
Starting a Program from Scratch Again... (Or not)
". The reason for the series is to document my process as I attempt to practice all that I have learned so far as an educator who has moved around (a lot).

Although moving doesn't strip away all the knowledge and skills I've gained along the way, it does require re-thinking in terms of how to apply them. That's because "place" is important. Where we are and the communities who live here determine what "makes sense" in how we create and offer programming.

The series has two parts posted previous to this one:
In Part 1

I shared why

I felt it was important that "before initiating any community program, to first spend time

learning

about the place we live,

building

reciprocal relationships, and

listening

to the ways we can respectfully contribute to supporting those who live here, human and more-than-human."

In Part 2

I offered some reflective questions I've been asking myself to learn more about the Land and Communities who have lived here, historically and in the present day.

Since then I've continued to access resources to seek answers to those questions, which inevitably leads to asking more questions, and a continuous deepening of my understanding of, and relationship to, the place I now live (The traditional territory of the Algonquin Anishinaabe, currently called Ottawa, Canada).

That requires open eyes and an open heart to the beautiful and to the ugly.

In light of the movement to cancel Canada Day, this call to learn, reflect, and take action grows stronger. As stated on the
Idle No More website
,
"The recent discovery at Kamloops residential school has reminded us that Canada remains a country that has built its foundation on the erasure and genocide of Indigenous nations, including children."

There are several suggestions for how to take action on the Idle No More website and in the
Truth and Reconciliation Report
. One of many ways is
to learn and reflect on all that we don't know
.

Canada is not the only country entwined in a dark history of colonization, and although I know many of you out there do not live in Ottawa, I wanted to share some of the resources I've been learning from,
which are only just scratching the surface
. Perhaps they may help you on your path too...

(Please note that in addition to online research, some of which is summarized here, I've also been working to connect with local Indigenous people to build relationships and respectfully learn from their lived knowledge and experiences, however they may wish to share it. These personal connections are critical, and go much deeper than a google search in creating authentic, visceral change. Building these relationships requires sensitivity and there are recommendations and considerations offered in
this resource
and
this blog
)
Historical context of colonization in the area
"Evidence of human habitation in the Ottawa Valley dates back more than 9,000 years — thousands of years before wonders like Stonehenge and the pyramids were built. Evidence from sites on the Quebec side of the Ottawa River, across from Parliament Hill, reveals a prolific history of trade in everything from raw materials and finished goods to "ideas" imported from cultures as far away as present-day Illinois and the Atlantic seaboard."

"Anishinabe is the name chosen by the First Nation people; it means "the people" or "the good beings".

Algonquin is a name given the First Nation people by the French.

Anishinabe consists of three First Nations bands: Algonquin, Cree and Ojibwe. Each Nation shares a similar language base, with many differences (similar to how the English, French and Spanish share Latin as their base)."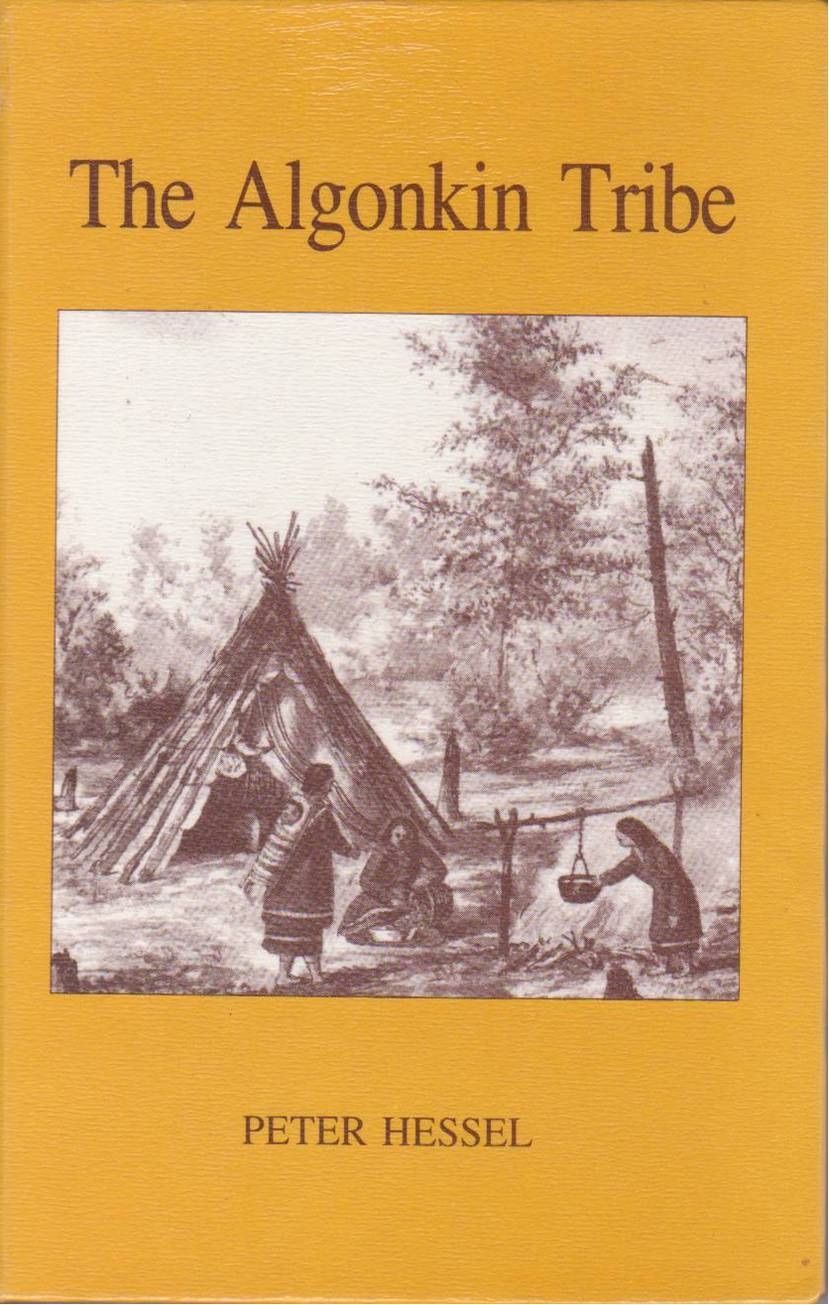 "It is known from early written records that by 1613 the Algonkins were in control of the Ottawa Valley and the surrounding areas to the west and north. It is possible that they and their ancestors have lived along the Ottawa for a few thousand years" (Hessel, 1987, p. 9).
"It is unfortunate that the Ottawa River - and the city which became Canada's capital - are today known not for the Algonkins who were firmly established here but for the Ottawa Indians who had no roots in this area at all." (Hessel, 1987, p. 10).

"The original Anishinaabe word "odaawe" — pronounced "aw-DAH-weh"
—
means "a place of trade" or "to sell or to trade," and was used to refer to the Algonquian-speaking Ojibway people of the same name. While their traditional territory was west of the Ottawa River Valley along the shores of Lake Huron, they were key traders in what's now the Ottawa area.

"They were the ones that went into the trading posts," said Monague. "Through anglicization, they came to be known as Odawa, and today they would call themselves Odawa because that's the label that was placed upon them… In the mid-19th century, British colonial authorities ended up bestowing the name Ottawa on what was then known as Bytown, an important trading post where several thousand Algonquin people had settled, said Veldon Coburn, a professor of Indigenous studies at the University of Ottawa.

"As legend has it, they picked it up and sort of anglicized it, put a harder 'T' on it," said Coburn, who hails from the Algonquins of Pikwàkanagàn First Nation near Golden Lake, Ont., about 160 kilometres west of Ottawa."

In 1783 the area currently known as Ottawa was supposedly purchased under the Crawfords Purchase by Captain William Crawford on behalf of the Crown. However, "no copies of the deed for this transfer have survived. Additionally, a formal
treaty
was not signed… In essence, the Crawford Purchase was not a treaty. It was the acquisition of land without ongoing British obligations, such as annual payments or gifts, a key feature of most treaties… [but] when British surveyors arrived to lay out lots for
townships
, they learned that Chief Mynass did not control all the territory he claimed, which included the southern portion of traditional Algonquin territory."

Ongoing activism, discussions, and negotiations continue happening today regarding territories, Land, and how this relates to Reconciliation. Here are a few articles for more information:

Learning about Culture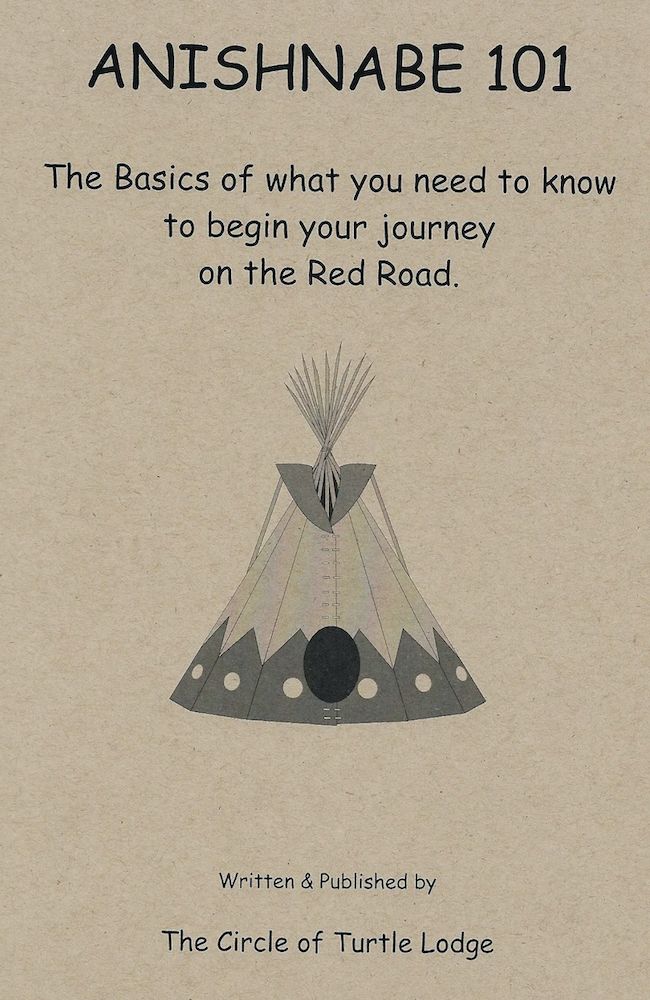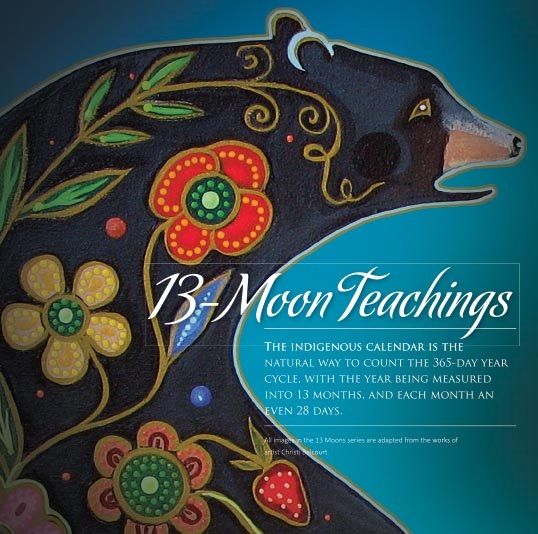 13 Moons Teachings Booklet
The Indigenous calendar is the natural way to count the 365-day year cycle, with the year being measured into 13 months, and each month an even 28 days. Available for purchase from Wabano, An Indigenous Centre for Excellence
https://wabano.com/product/13-moons-teachings-booklet/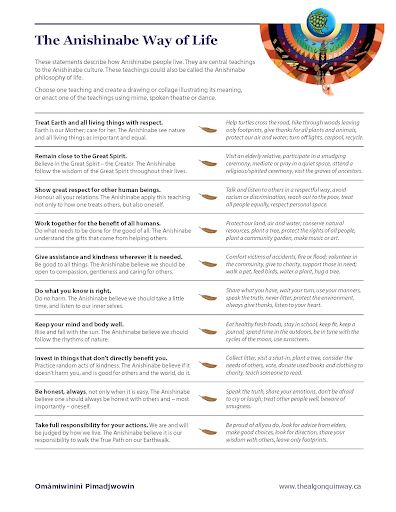 The Anishinabe Way of Life - Lesson Plan from The Algonquin Way

Territories & Treaties

Books, Booklets, & Blogs

Local Indigenous Organizations
Created with