Blog
Stories from my personal journey learning about and delivering Nature-rooted programs across three different countries

Empty space, drag to resize
This piece of writing by Rachel landed in my inbox the other day (I'm a subscriber and
you can be too
) and I couldn't help but reply almost immediately saying, "Thank you for saying this!" and proceeded to ask if I could share it on my blog. Rachel kindly said yes, and so here it is. I've also added a few of my thoughts on the topic as an addition at the end. Okay, now over to Rachel...
Empty space, drag to resize
One afternoon last week I was looking out the kitchen window admiring the vibrant colors of the changing leaves as a cold October rain fell. Suddenly the rain shifted to
sleet
. As I watched the sleet bounce off the ground I thought, "Oh, there IS bad weather. Today would be a miserable day to be outside playing!"
Now, I know many people reading this may say, "But, Rachel, there's no such thing as bad weather. Just bad clothing." Meh. I disagree.
Even in full rain gear with warm layers, rain and sleet bouncing off my body in 45F/7C temperatures does NOT sound pleasant to me. Some might say "Oh, but you'll survive." Well, yes, of course. If dressed appropriately you won't be physically injured, but it still isn't much fun.
For me the key isn't to claim there's "no such thing as bad weather" but to re-evaluate what counts as bad weather and how we talk about it.


Typically, the "no such thing as bad weather, just bad clothing" phrase is used when programs are just starting to go outside in less-than-ideal weather conditions. Typically it's commentary on how a little rain isn't "bad" weather but just requires raingear. I totally agree with that sentiment. And then…
At some point, once a program is outside every day—and perhaps all day—there starts to be more nuance in the weather.
Some days it's just plain nice to play under a tarp, porch, or other shelter instead of in the cold, pouring rain for the third day in a row. It's also nice to go inside, take the wet clothes off, and have a warm cup of tea.
(This is one of the reasons why I still recommend a shelter for programs spending 70%+ of their day outside.)
In addition to re-defining what counts as bad weather it's also important to think about how we talk about "bad" weather. Even in less-than-ideal weather conditions we can…
Express gratitude for the clothing that's keeping us warm and dry

("Oh, I'm so glad I have these wool socks and boots on because my toes are nice and warm." or "Thank goodness we have rainsuits to keep us dry today.")

Share our thanks for shelter

("I'm so grateful for this porch so I can read while I listen to the rain fall." or "It would be hard to stay dry right now if we didn't have this tarp.")

Observe the weather

("Wow! Look at how that sleet bounces." or "Look! It's raining so hard there's a little stream forming between the sand box and the mud kitchen.")

Build relationships by reflecting on our shared experience

("Phew! I'm glad we made it under the porch—that sleet hurt my head." or "Remember when ice chunks came out of the sky and bounced off our bodies as we ran for cover. That was so wild!")
Keep in mind we're trying to create positive outdoor experiences—not filming the next outdoor survival show!
Personally, I was very grateful to be inside pouring another cup of tea.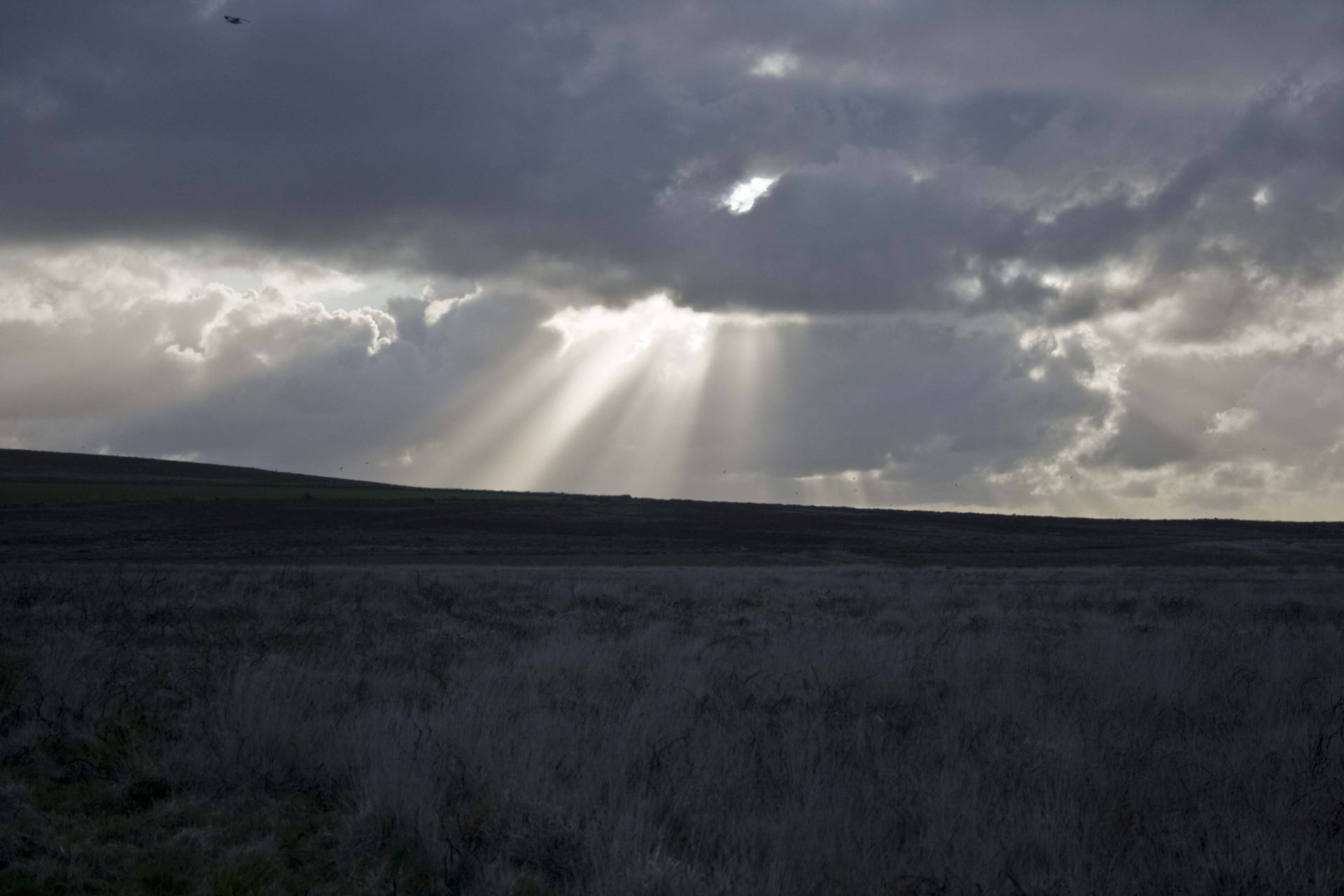 Thanks for sharing your thoughts with us Rachel! That phrase "there's no bad weather" has always bothered me but I've struggled to put my finger on why. And I felt like it shouldn't since I'm such an advocate for people spending time outdoors. Rachel's writing helped me reflect more on this niggling feeling and so I want to add a few more thoughts here.
I've actually started using the phrase "
hard weather" in place of "bad"
so as not to assign it a negative value whilst also acknowledging that some weather is a lot harder to be out in than those breezy sunny warm days.
Weather can be hard because we don't have the right clothing - that is true!
AND access to the right clothing is not easy for everyone.
It's expensive, for one. I moved to a snowy climate for the first time in my life 5 years ago and still haven't accumulated all I need to stay comfortably warm and dry all day outside. I'm surviving on a lot of second hand items donated to me by friends and purchased from thrift stores.
Clothing that's most affordable is often made with cotton which holds no insulating properties once wet, and finding an alternative (such as wool) may require a trip to an entirely different store along with the higher costs. And so asking parents and caregivers to purchase this clothing to then send a child outdoors to immediately make it muddy and wet is entirely unreasonable for some!
Also people will have different experiences when outdoors. Some weather, like wind or cold rain for example, can create sensory overload for those with sensory needs and differences. I've once run a program where a child who was overstimulated by wind would lie down in the fetal position in fear on the forest floor if a breeze came through.
Additionally, when talking about being out in all weather, a good friend of mine who's Black shared her reasons for avoiding rain at all costs with me. It both ruins her hairstyle, which requires significant investment in both time and money to maintain, and can cause physical pain when her wet hair tightens as it dries out again. I encourage you to read this article from Melanin Basecamp called
I Can't Get My Hair Wet
which highlights how
racism is inherent in standards of beauty, and hair care, and why a person may actually feel deeply anxious about being out in the rain:
"On days it rained, I wished I were one of the kids who could run fearlessly outside to catch the bus. Instead I held notebooks over my head, more worried about protecting my hair than the words I had just written down."
These are just a few things to think more deeply about the next time we may feel inclined to use that phrase, "There's no such thing as bad weather..." because, for some, the experience of being in such weather can indeed be bad.
So what else could we say (and do!) instead that would be more supportive in these circumstances?
Empty space, drag to resize
Empty space, drag to resize
Rachel is an educator, speaker, consultant, and author of three books including Establishing a Nature-Based Preschool and Preschool Beyond Walls: Blending Early Childhood Education and Nature-Based Learning. Her passion and expertise is intentional integration of nature into early childhood education for young children's whole development. Rachel is the Chief Visionary of Samara Early Learning

Created with